FINANCE THAT FITS YOUR NEEDS AND BUDGET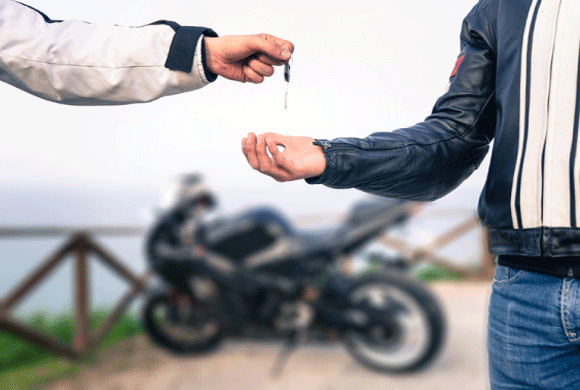 Bullet Bikes have got you covered with a range of fantastic finance options available for your next motorcycle purchase. With access to a wide range of lenders, our in-house finance experts can quickly help you work out your borrowing capacity and work out a repayment schedule that suits your needs and budget.
Why finance your next motorcycle through Bullet Bikes?
We offer:
Competitive interest rates
Flexible repayments
Quick approvals
Flexible loans to business and individual purchases
Tailored insurance products
Hands-on advice from the team of finance specialists
The quickest and easiest way to get started with your application for finance is online.

INSURANCE - WE'VE GOT YOU COVERED
Bullet Bikes take the hassle out of buying a new or used bike with a fantastic range of insurance and warranty products such as:
Comprehensive & Off Road Insurance
Comprehensive Cover – Road Registered Includes:
Accidental damage (regardless of fault)
Theft, Fire and Storm
Your legal liability for damage to another's property
Off Road Cover Includes:
50% Accidental Damage
Fire & Theft
Loss/damage to your bike during transport.
Conditions apply. Contact our in-house finance officer for further details.
Rider & Pillion Passenger Protection
If admitted to hospital and treated for 12 consecutive hours, you will receive a cash payout of $2000. This could be used for medical bills, loan repayments, Repairs to your bike etc.
Cover includes:
On-Road
Off-Road
Track Days
Promotion Days
Various Racing Events
Rider Instruction
All Motorcycle variants including On-Road, Off-Road, Trail, ATV's etc.
Conditions apply. Contact our in-house finance officer for further details.
Don't forget to ask us about:
Loan Protection
Gap Protection
Rider & Pillion Passenger Protection
Comprehensive & Off Road Insurance
Tyre & Rim Insurance
CALCULATE
YOUR REPAYMENTS
Get a rough idea of a repayment schedule using our repayment calculator.
Note: The values are for estimation purposes only and a consultation with our finance experts required to work out a final repayment schedule.
Disclaimer: This calculator tool is provided for estimation purposes and should not be taken as an official loan application or offer of a loan. Actual repayment amounts can depend on different factors and repayment frequency options may not always be available. We recommend you contact our finance team to learn more about available rates and options based on your circumstances.
APPLY FOR
FINANCE NOW!

The first step to hitting the road on your next bike is to fill out our online form with your personal details. We will get back to you soon to discuss your finance requirements.

}